"After years of trying every type of hair removal you could imagine, I have finally found, in Voncille and her team, the permanent solution. I now feel confident that I will no longer have a constant battle with unwanted hair growth instead of a seemingly quick fix that only serves to make the issue worse as I learned undergoing laser treatment. Thank you for taking such excellent care of me PES! I will be singing your praises to all that will listen!" - Delia

"I feel so fortunate to have found P.E.S. The staff are friendly, welcoming and professional. The offices are immaculate. I knew nothing about electrolysis when I first came to their office. Voncille took the time to explain the entire process and answer all my questions. I have been a client now for one year and the results are amazing! I was always so embarrassed by my facial hair and now I don't have to worry. Thank you P.E.S.!"
- S.M.
"I have been an electrolysis client on and off for several years (sometimes, I'll go back if I need her to work on other areas). I've had electrolysis with others - but Voncille really knows what's she is doing and gets great results." - C.G.

"As a physician, I did a great deal of independent research prior to committing to a hair-removal method, and found that the only truly permanent procedure at present is electrolysis. After a lifetime of plucking, I have been very gratified to see my unwanted hairs becoming finer and lighter with treatment, and eventually not growing back at all! I started with PES because the office was close to my home, but I have remained with them because I have been so pleased with the personnel and results." - Martha
"I have been to several other electrologists over the years, and have to say that Voncille is truly unique in her blend of professionalism, customer care, and skillfulness as an electrologist. Many times I have fallen asleep (which never happened with other clinicians!) while she was working on me due to her knowledge of how to reduce the pain of the process while making a dramatic difference in my appearance. She truly has a healing touch. Furthermore her knowledge and willingness to explain exactly what she is doing and why is a testament to her sincere devotion to and knowledge of this field. I think it is so rare to find such a warm, honest, and professional clinician, that I offer Voncille my highest recommendation without any hesitation. She has really made a difference in my life!" - M.I., Atlanta

"I had as many or more white hairs as I did dark hairs. Electrolysis is the only PERMANENT method for removing any hair and the ONLY method that can treat other than dark hairs. While having my unwanted hair permanently removed was great, I soon began looking forward to my visits with Voncille. Her kind and thoughtful manners have always been welcome breaks in my day." - B.K.G.
"Electrolysis has changed my life! After years of tweezing, shaving, and even a laser treatment or two, I finally have proof that electrolysis is the ONLY permanent way to remove hair. I thought my problem was hopeless, but I am well on my way to a hair-free life!" - L.A.M.
"Electrolysis saved my skin, my face, and my self-esteem. But, it could have destroyed everything! I was desperate to try electrolysis anywhere, and in doing so, my skin became scarred and pigmented. I am forever grateful to my friend who referred me to PES! My Electrologist explained to me about using Galvanic current on my skin and it really worked! Thank you ever so much to the best Electrologist, Voncille Burdette."

"Voncille is one of the kindest and most caring professionals I have had the pleasure of working with. She is extremely thorough, very experienced and tailors each treatment to perfectly suit each client. In addition, she has the sweetest bedside manner around. :) I was very sad to leave Atlanta because I knew I would never find another electrologist of her caliber." - erlederman

"I have tried almost a dozen electrologists around the country, and have never gotten the results that I have at PES. Not only is Voncille a skilled electrologist, she treats each of her clients with utmost respect, sensitivity and personal care that you can't find anywhere else. As a physician, I also find it important that Voncille and PES maintain a sterile, hygenic environment that is safe, effective and gentle on my skin. I have suffered many reactions elsewhere but not once have I had a problem at PES. I am extremely pleased with the results." - M.P.
"I tried electrolysis at two other places over a period of three years, but I was never satisfied with the results and it hurt so much I was often tempted to grab the tweezers and do it myself. Thank goodness I didn't. When I found Voncille, through her website, I wished I had looked sooner and saved myself years of fuzzy dissatisfaction.
..Voncille is such a caring professional. She explains the process and answers all your questions. Most importantly her procedure is virtually painless and it works. It works so much better than I ever thought possible. Instead of having fuzzy growth within two weeks after, I'm seeing my face stay smooth between treatments because Voncille understands the proper way to use electrolysis. She schedules your visits so that your skin remains smooth and your confidence in your appearance remains high.
..I've recommended Voncille to other family members and they too are impressed with Voncille's caring and professionalism."
- Nancy C. Decatur
"It is my pleasure to highly recommend Voncille Burdette and PES. Voncille is the best, pure and simple!

..She truly cares about her clients and it shows. Voncille is extremely knowledgeable and always has the latest state-of-the-art equipment. I was very surprised when she called the day following my session to ask how I was doing! I thought that kind of dedication and service were gone forever.

..I could not offer a higher recommendation of anyone than Voncille. She gives new meaning to the phrase "dedicated professional"! Give her a call. You'll be so glad you did and wish that you had known about her sooner." - Tina Greathouse, Atlanta

"Hi Voncille,
I'm writing to thank you for your great work. I'd been dealing with a lot of post-menapausal facial hair which was making me self-conscious. Your work has been very helpful. My face is looking better and the rate of hair growth has lessened considerably. In addition I'm impressed with the care you take as you work on me. I feel well tended to and I've never broken out or had ill-effects from your treatment. Thanks, again." - L.W., Atlanta, GA
"My name is Delone Cleare, and I am writing this commentary to express my gratitude regarding the services that I have received at the PES office. I am from the Bahamas , and being a person of African descent, (colour) I was very particular in selecting a professional who had had the knowledge and experience to compentently address my concerns. After a consult with my Emory University Medical Centre based plastic surgeon, I was referred to PES, I could not have been happier.

..Subsequently, I have been a client of PES for several years. I have no idea as to what I would've done had I not come to the office for the electrology service. I have been overwhelmingly pleased with my results, and have found that the excessive hair growth is no more. There are no blemishes on my skin, it is baby smooth and beautiful. I am so grateful for the peace that I have received since finding a solution that actually works. If you have never had a problem with rampant facial hair growth it is difficult to understand how significantly it impacts your life. You worry about people touching your face, the blemishes from plucking hairs from your chin, the thickening of the skin in the area, the makeup that is essential to cover up the flaws. I am now able to leave my home without make-up all of the time, and am pleased to show off my flawless skin. Electrology has been scientifically proven, and now it is Delone proven as well.

..As I look back, I am able to remember trying many products and medications to assist me in resolving the excess facial hair growth, and how helpless and desperate I felt. Today there are no such issuses. With life in general there are enough worries, this is one less thing on my plate. The staff at PES is professional and very knowledgable thay feel like family.

..Honestly........ I love going. I never hesitate to recommend PES to friends with same concerns. I am well satisfied, and happy that I have found a solution that works for my problem!

..Now how often does that happen? Thanks PES and Voncille for changing my life." - Delone Cleare (1 of many satisified customers)
"After unsuccessful attempts of waxing, tweezing and shaving to remove unwanted facial hair, I felt hopeless and ashamed until a co-worker shared her story or how electrolysis changed her life. She too was African-American and I couldn't believe that she ever had facial hair! That's when I followed up with her referral and met Voncille who unveiled the problem and solution which also helped restore my confidence.

..Although I had no concerns about her professionalism and expertise, I learned that Voncille does not put her "stamp of approval" on anything until she has done years of research and experience and this has remained constant over 20 years of knowing her. she not only values her reputation of professionalism and honesty, but more importantly, she values EACH of her clients as thought they are family.

..The bottom line is that Voncille sincerely cares about her clients' overall body, spirtual and personal well-being. That's what makes her exceptional above all others, in addition to her professional results!

..I highly recommend P.E.S. for all skin types because it is a positive, life changing experience that really works!" - Sincerely,
Santhalyn Davis

"Prior to starting skin care treatment with microdermabrasion, I was suffering from cystic acne-deep tissue nodules that could not be extracted by hand. It comes with the territory of aging and changing hormones. To rub my hand across my face felt as though I was 'reading braille'. I was in tears. After ONE treatment with microdermabrasion, the cystic acne resolved and I have not looked back-keeping up the microdermabrasion treatments every 5 to 6 weeks. It is amazing how well it works." - Michelle

"No one could ask for a better instructor than Voncille Burdette. She provides you with hands on training as she imparts her thirty plus years of knowledge. Voncille takes you by her side as she treats clients. She invests in you as you invest in yourself. She allows you the needed flexibility to work with your schedule, she does not rush you through learning and is continually there to advise you long after you graduate. Voncille shares all the ins and outs of starting a business, her personal successes and mistakes. Unless you are looking for a structured classroom setting, the GA School of Electrology is the way to learn. Studying with Voncille Burdette gives you the opportunity to be one of the best in the field of electrology." - Joan Paucke, Electrolysis Associates

"Finally! An electrolysis who gave me results only after a few appointments. I knew right away that Voncille was a professional because she gave me an introduction/explanation of electrolysis before the treatment. In fact, no one over the past 30+ years ever told me not to use a tweezer; she told me if I wanted to trim the hair before the next appointment I should use a scissor. I believe this advice has made all the difference – along with her years of expertise, advanced equipment and knowledge. This woman is a professional who takes her work very seriously. I am so happy that I finally found someone who knows what they are doing! Voncille Burdette is a master of electrolysis! (If anyone wants to speak with me, my name is Rita Stern.)"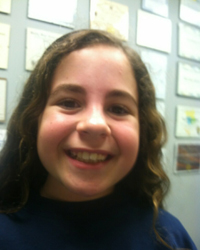 "I like it, it tickles." - Zoe
[Center eybrow]